Humble Bee Cottage
A two-storey converted granary, Humble Bee Cottage is a stone-built hideaway, traditional yet with every comfort and provides ample space for a family getaway or a couple's self-catering 'staycation'. Retaining period features with luxurious finishing touches, two en-suite bedrooms, beamed ceilings, soothing decor, fully-fitted kitchen with quality appliances and a cosy log burner. An attractive, original country cottage with lots of space and tranquility. Outside there is a private patio area with easy access to farm walks, our friendly hens and the farmyard gang which includes pigs, sheep and cows. This lovely cottage is spacious and warm offering a lovely rural getaway.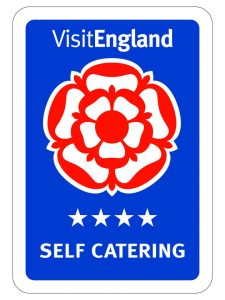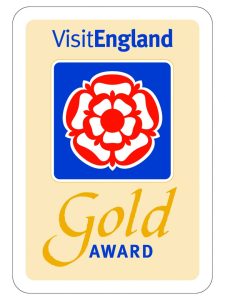 Click here for an online handy guide, full of useful information about your stay, accommodation and the local area!
This access statement does not contain personal opinions as to our suitability for those with access needs, however it does aim to describe the main facilities and services that we offer all our guests/visitors. Access for Humble Bee Farm Cottages We are located at Humble Bee Farm, just outside Flixton between Filey and Scarborough. Humble Bee Cottage is a two storey building including boot room and downstairs w.c., fully equipped kitchen, dining area, lounge, store cupboard, one staircase leading to main bedroom (with four piece bathroom suite including shower, bath, w.c. and wash basin), twin bedroom (with en-suite w.c., shower and washbasin). Pre-Arrival For directions please refer to our website www.humblebeefarm.co.uk The easy way to get to us is to join the A1039 from any of the main routes, head into Flixton village, taking the Redgate Garage turning and proceeding up Flixton Hill, with the entrance to our site clearly signposted from the road. Car Parking and Arrival A chalk-rubble parking area is allocated to guests and is positioned within 10 to 20 yards of the cottages. There is a sensor light that is activated with movement in the courtyard. We will be pleased to help you with your luggage if required. Reception There is a main reception area that has a 6 inch step to get inside. Staff are happy to meet, greet and assist guests on arrival. Humble Bee Farm has a step of 6 inches into the boot-room from the courtyard, door width 31 inches, and another step of 7 inches into the kitchen, kitchen door 32 inches width. The downstairs WC has WC (15 inches) and basin of 30-inch height. Kitchen work surfaces are 37 inches in height. The dining table is 31 inches in height. Door to store cupboard is 27 inches wide. Single return staircase of 13 steps, each step 8 inches in height. Bedrooms in Humble Bee Cottage Humble Bee Main Bedroom – contains a double bed, chests of drawers, two bedside cabinets, wardrobe; Second bedroom – chests of drawers, two bedside cabinets, wardrobe; twin beds. Door entrances to bedrooms in this cottage measure 30 inches in width. Main Bathroom Bathroom Bed height 16 inches Store cupboard door 29 inches Bathroom door 30 inches in width Toilet 17 inches in height; shower step 12 inches in height, single door; bath 23 inches in height; basin 34 inches in height. Also has a fixed grab rail in the bath. Second Bedroom Twin or double bed 24 inches in height. The en-suite shower room includes the main door of 29 inches width; toilet 16 inches in height; basin 32 inches in height; shower step 12 inches with bi-fold door. Bed(s) 24 inches in height Outside steps = one flight of steps each = 8 inches. Door at top of steps 31 inches in width.
Extras
Celebration Package for Children
---
including balloons, banners, jar of sweets, party bag, fairy lights and bunting
£40.00
Celebration Package for Adults
---
including bottle of bubbly, hand crafted Yorkshire Chocolate, banners, balloons, fairy lights and bunting.
£40.00
Vegetarian Breakfast Pack
---
2 boxes of mini cereal, Orange juice, Box of eggs, Baked beans, Mushrooms & Tomatoes, Bread, 1 pint of Milk, Yorkshire preserves, Vegetarian sausage. (please note we need 48hours notice)
£22.00
Breakfast Pack
---
For two persons. Including; bacon, sausage, eggs, tomatoes, mushrooms, baked beans & milk. (please note we need 48hours notice)
£15.50
Welcome Hamper
---
Chill and out relax on arrival at Humble Bee, knowing all the essentials will be waiting for you!
**please note this package is ADDITIONAL to the accommodation tariff**
The Welcome Package includes:
The Welcome Hamper includes:
Box of Yorkshire tea & jar of coffee
Tomato ketchup
Yorkshire Preserve
Locally sourced eggs
1 pint of Milk
Loaf of bread
2 x mini boxes of Cereal
1 x 250g Butter
Sugar
Box of Matches
2 bags of Yorkshire Crisps
2 packets of Lottie shaw biscuits
2 x Lottie Shaws Flapjack
Snack cup of candy king
Bon Bon Mallows
£35.00
£42.00
Please note
---
All extras are subject to 20% VAT. (included in the above prices.
Thank you
View our accommodation interactively
360 Video
Humble Bee Cottage

We have just had a week at Humble Bee Farm-stayed in a lovely cottage that has everything you need, a real home from home. The Farm is set in a beautiful location and the people who run the farm were lovely and so welcoming. Our 2 little girls thoroughly enjoyed seeing the animals every morning and evening after our trips out. They especially liked Larry the lamb and the pigs! Overall a lovely family holiday and would highly recommend. Hopefully we'll be back soo to try out the yurts! Many thanks for a lovely stay!

Tony B-Humble Bee Cottage