Buzzy Bee Pizzas, are back!
Buzzy Bee Pizzas are back for 2020!
Due to Humble Bee Farm being closed at present following government guidelines re covid19, all pizza nights are currently on hold. However We will be announcing more dates for our pizza nights as soon as we can! Thank you!
---
You will receive an email with the menu, and details on how to place an order closer to the time of your arrival date. (usually a week before arriving)
Pizzas are pre order only & subject to availability due to time slots.
You will chose a time slot when ordering and it must be paid for at the time of booking over the phone on 01723 890437. Please see the menu below
The freshly baked pizzas will then get delivered to where ever you are staying on our site!
Book your accommodation here to enjoy our Buzzy Bee Pizzas!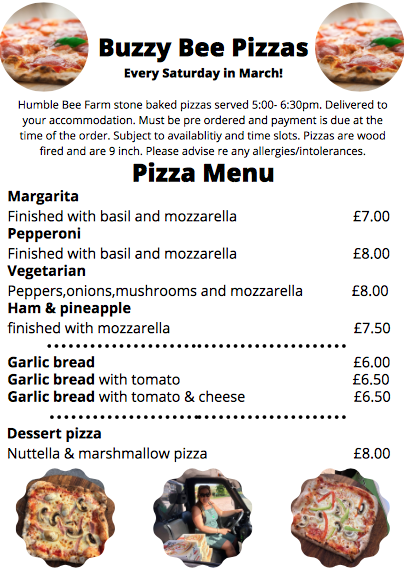 .