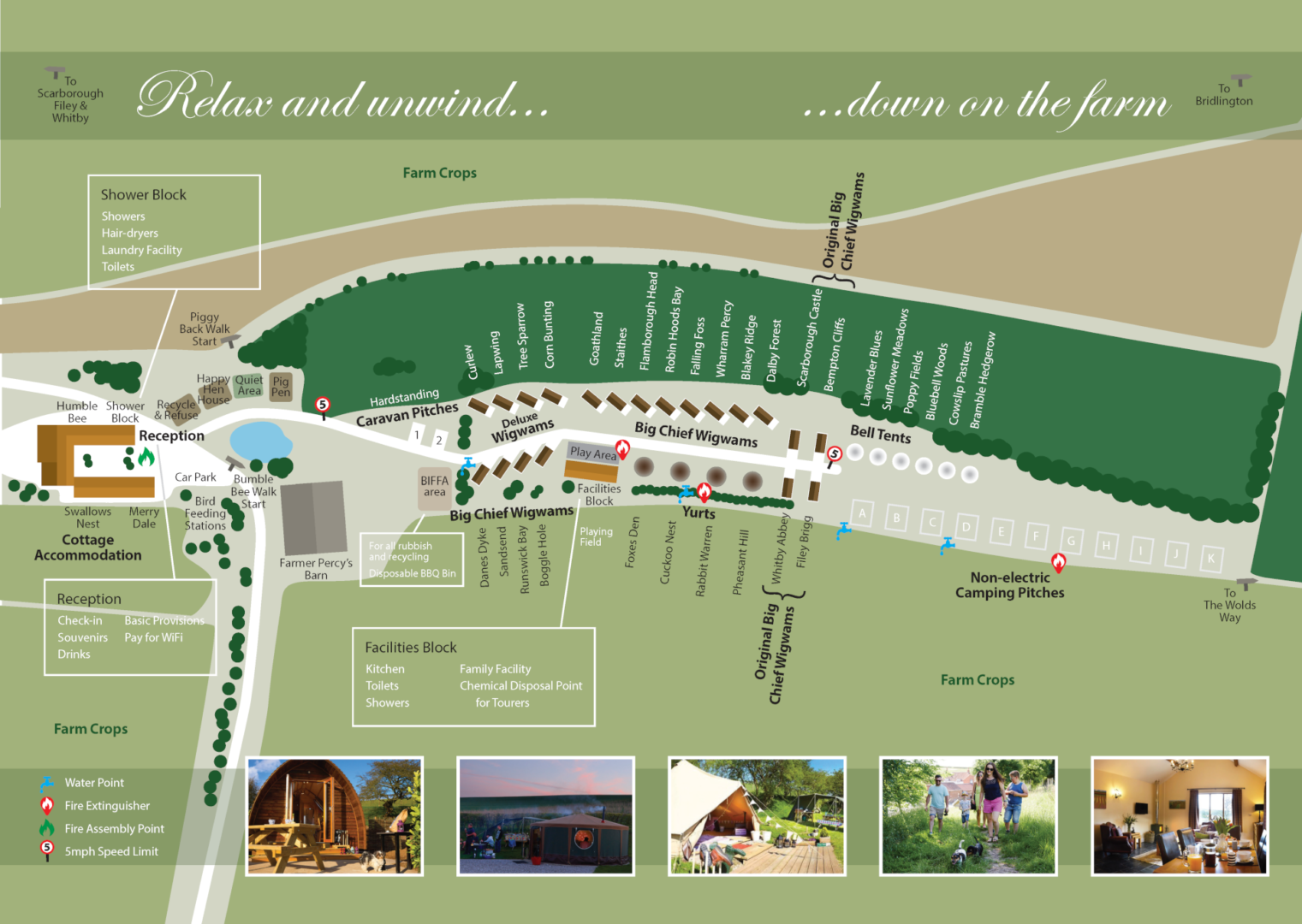 This access statement does not contain personal opinions as to our suitability for those with access needs, however it does aim to describe the main facilities and services that we offer all our guests/visitors.
Access for Humble Bee Farm Cottages
We are located at Humble Bee Farm, just outside Flixton between Filey and Scarborough.
Humble Bee Cottage is a two storey building including boot room and downstairs w.c., fully equipped kitchen, dining area, lounge, store cupboard, one staircase leading to main bedroom (with four piece bathroom suite including shower, bath, w.c. and wash basin), twin bedroom (with en-suite w.c., shower and washbasin).
Pre-Arrival
For directions please refer to our website www.humblebeefarm.co.uk
The easy way to get to us is to join the A1039 from any of the main routes, head into Flixton village, taking the Redgate Garage turning and proceeding up Flixton Hill, with the entrance to our site clearly signposted from the road.
Car Parking and Arrival
A chalk-rubble parking area is allocated to guests and is positioned within 10 to 20 yards of the cottages.
There is a sensor light that is activated with movement in the courtyard.
We will be pleased to help you with your luggage if required. Reception
There is a main reception area that has a 6 inch step to get inside. Staff are happy to meet, greet and assist guests on arrival.
Humble Bee Farm has a step of 6 inches into the boot-room from the courtyard, door width 31 inches, and another step of 7 inches into the kitchen, kitchen door 32 inches width.
The downstairs WC has WC (15 inches) and basin of 30 inch height .
Kitchen work surfaces are 37 inches height. Dining table is 31 inches in height.
Door to store cupboard is 27 inches wide.
Single return staircase of 13 steps, each step 8 inches in height. Bedrooms in Humble Bee Cottage
Humble Bee Main Bedroom contains double bed, chests of drawers, two beside cabinets, wardrobe;
Second bedroom – chests of drawers, two beside cabinets, wardrobe; twin beds.
Door entrances to bedrooms in this cottage measure 30 inches in width.
Main Bedroom
Bathroom Bed height 16 inches
Store cupboard door 29 inches Bathroom door 30 inches in width
Toilet 17 inches in height; shower step 12 inches in height, single door; bath 23 inches in height; basin 34 inches in height
Second Bedroom
Twin or double bed 24 inches in height.
En-suite shower room includes main door of 29 inches width; toilet 16 inches in height; basin 32 inches in height; shower step 12 inches with bi-fold door.
Bed(s) 24 inches in height
Outside steps = one flight of steps each = 8 inches. Door at top of steps 31 inches in width.
Extra
Whats Included
Price
Celebration Package for Children
Fairy lights & bunting, Homemade cupcakes (up to 6 cakes), Celebration Balloons, Large jam jar of sweets, Humble bee farm souvenir party bag for the 'Special Person'
£30
Celebration Package for Adults
Fairy Lights & Bunting, Bottle of bubbly, Hand made chocolates, Celebration Banner, Celebration Balloons, Celebration confetti
£30
Designer Icing Bakery - Bespoke hand made cakes for every occasion
07725193481
http://designericing.co.uk
Guest is responsible for order and collection
Balloons By Amy - Bespoke balloon creations for any occasion
07794600972
balloonsbyamy@outlook.com
Guest is responsible for order and collection
Vegetarian Breakfast Pack
2 boxes of mini cereal
Orange juice
Box of eggs
Baked beans
Mushrooms & Tomatoes
Bread
1 pint of Milk
Yorkshire preserves
Vegetarian sausage
£19.95
Breakfast Pack
For two persons. Including; bacon, sausage, eggs, tomatoes, mushrooms, baked beans & milk.
£14.50
Welcome package
Box of Yorkshire tea & jar of coffee
Tomato ketchup
Yorkshire Preserves
Locally sourced eggs
1 pint of Milk
2 x mini boxes of Cereal
1 x 250g Butter
Sugar
Box of Matches
2 bags of Yorkshire Crisps
Lottie shaw biscuit box
Lottie Shaws Flapjack sharing bar
Snack cup of candy king
£32.00