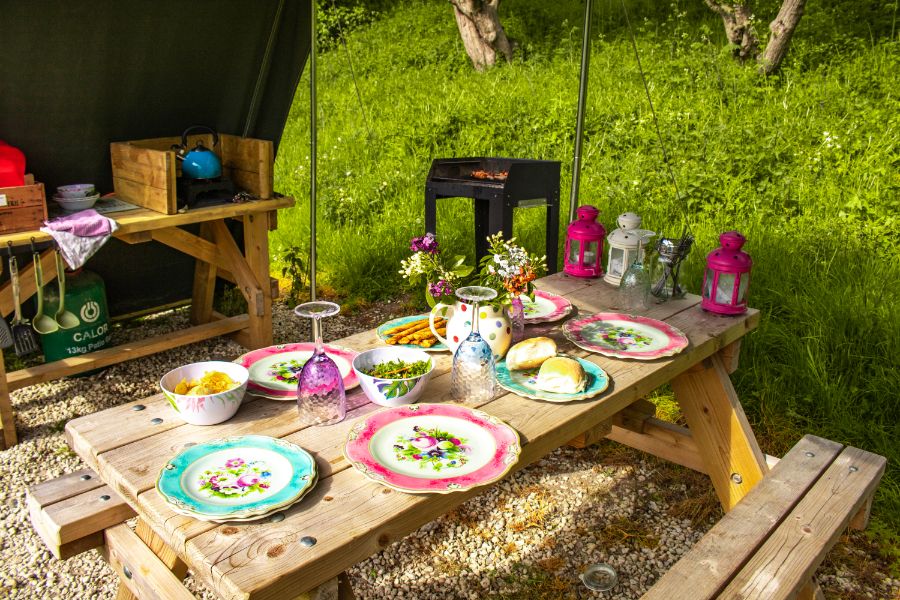 So … you've booked your cabin, yurt or bell tent. And the nights are getting darker, cooler and there's a little nip in the air.
Your next question is … what do I need to bring when I go 'glamorous camping' as the season changes?
With glamping becoming a must do holiday experience, here at Humble Bee you can pre-order lots of glamping goodies from us prior to your arrival day.
However here is helpful list of items you can bring to help your autumnal stay with us be fun and cosy!
Yourselves … enjoy family fun or a couple's quality time, and get away from it all!
Wellies and other waterproof gear … just in case!
Gloves, hats, scarves … just in case!
A torch, so you can enjoy the low light pollution and do some stargazing.
Spare batteries for the torch (darker nights mean you might use it more).
If you enjoy a tipple, then don't forget to bring a bottle or two of your favourite beverage.
Some brilliant books or e-book … ones you've been meaning to read for ages, or that special holiday read. Why not bring a favourite and something new to read?
Binoculars for birds spotting and some night sky exploration.
A book or app which can help you identify trees as the leaves change colour and fall to the ground; also to help you identify animal tracks and autumn flowers.
Unless you've pre-ordered them with us, you might need to bring your own bedding and towels …
Delicious, tasty food … not forgetting a few treats here and there! Autumn is a great time to indulge in some comfort food.
A local guide book or access to a local website telling you about lots of things to do and see.
Download a constellation app so you can identify the stars!
Your walking boots … for a serious stretch of the legs (not forgetting some extra socks).
An extra rug or two, and some garden chairs so you can enjoy the 'great outdoors' ( you can pre-order these items, subject to availability, here at Humble Bee).  
Additional boxes of matches, please store and use safely.
Some board games … who can resist a game of Ludo!
Walking maps or phone apps so you can explore the area on foot.
An inquisitive mind! Explore the heritage of our local area: visit a museum or visit the cultural quarter.