As a new season approaches, Team Humble Bee have been busy preparing some new and exciting additions for you to enjoy!
The Hive Cafe Bar
Our Cafe Bar, The Hive will be reopening Spring 2022, and we can't wait to share The Hive with you for its first full season. The relaxed cafe/bar includes our barista coffee available for a real coffee fix.
You will be able to have breakfast-filled rolls and home bakes at peak times from The Hive.
During peak season, our popular Pizza Nights and Burger Nights will take place, and children's meals will also be available. We also have a licence to sell alcoholic beverages … perfect for a holiday break.
Choose from draught beers/lager, wines/Prosecco, soft drinks and more.
Electric Hot Tubs
Our Deluxe Wigwams have previously had Wood Fired Hot tubs available for use.
However for 2022, these wigwams will now have 'electric hot tubs' included with them, instead of the original 'Wood Fired Hot Tubs'.

This new improvement for this year means your hot tubs will be steaming and bubbling away for your use at any time of your stay, and also the electric hot tubs have fun jets/lights that the wood fired hot tubs previously did not.
Sports Field/Play Area
The Honey Pot Play Area has relocated to the Sports field, so you can enjoy a kick about, play on the swings, slide down the fire mans pole and make new friends all in one part of the site.
Reflection Garden
Humble Bee Farm's latest venture will be one that will cause you to pause, think and reflect.
We've moved our play area lower down the site and in its place, we'll soon have our sensory Wildlife Reflection Garden.
Our garden designer Paul Taylor has worked hard preparing the ground. Paul's preparation work including areas for a path and a board walk. Other areas that are now underway include the bog garden, and ultimately, there will be a broad selection of trees, shrubs and flowering plants.
Humble Bee Branding
Our new and improved shop will be fully stocked in time for the season, we cant wait to share it with you! We have a range of toys, keepsakes, confectionary, ice creams and more available for you.
NEW for 2022, we now stock our very own Humble Bee branded items, so don't forget to pick up your memorable item before you leave. Perfect for gifts or souvenirs to remind you of the memories you have made. There will be a range of items such as mugs, pens, tea towels, hats, postcards, magnets and a very special Farmer Percy Pale Ale!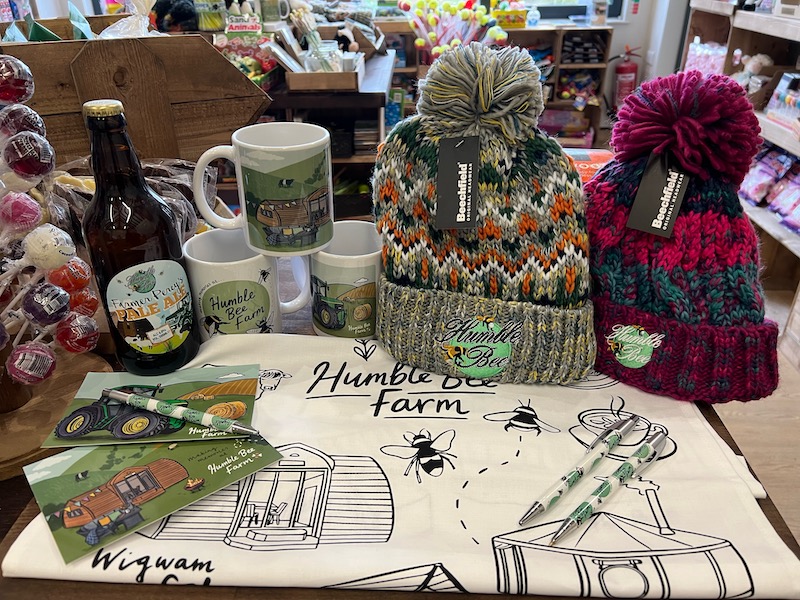 Guinea Pigs
One of our latest Farm Yard Gang additions, its a big welcome to Humble Bee Farm's guinea pigs! Guinea pigs are social animals with a compact, rounded body shape, short legs and no tail. They originate from the grasslands and lower slopes of the Andes Mountains in South America. There are different breeds and varieties of guinea pig, with a wide range of colour and coat lengths.
The Smoke Shack BBQ Hut
Available to hire for your special occasion here at Humble Bee Farm, offering Scandinavian cosiness which allows you to enjoy a delicious BBQ, whatever the weather.
Situated in a peaceful part of our site, perfect for a family or friends' gathering, booking required at £75.00 during autumn/winter months and £100 during peak times, for one evening.
We can also provide a locally-sourced bbq pack (please inform us of any food intolerances and this must be preordered in advance). Seats 16 guests, however due to current government guidance the maximum guests is currently six persons ONLY. The six guests using the BBQ hut will need to socially distance and wear masks if appropriate. Only available to book by guests staying at Humble Bee Farm, thank you.
Electric Vehicle
Did you know we have electric vehicle here at Humble Bee Farm? We are also in the process of having electrical vehicle charging points fitted, watch this space.
They will be subject to availability and fair usage applies. Please ask us for further details about this new facility, which is COMING SOON!
Ladies Shower Room Improvements
As part of Humble Bee Farm's commitment to giving our guests a wonderful experience, the main ladies toilets and showers are getting a revamp! As well as the three existing toilets, the improvements will include:
Brand new flooring
Improved drainage
New seating area
Two showers
New washbasin area
New tiles
New mirrors
This is now open and ready for guests to enjoy!
Improved Access Road

With our chalky soil, Humble Bee Farm's access road (from the main reception to the camping area) gets lots of wear, tear and creates a fair amount of dust!
New for 2022, we have resurfaced this road with a flatter, even surface making it more accessible. The 5mph speed limit still applies throughout the site, thank you.
George the Guinea Pig
The guinea pigs are very popular here at Humble Bee!

This year, we welcome George, our male guinea pig. Guests can visit our guinea pigs at any time. And we're hoping for some baby guinea pigs, called pups, in the near future.
.