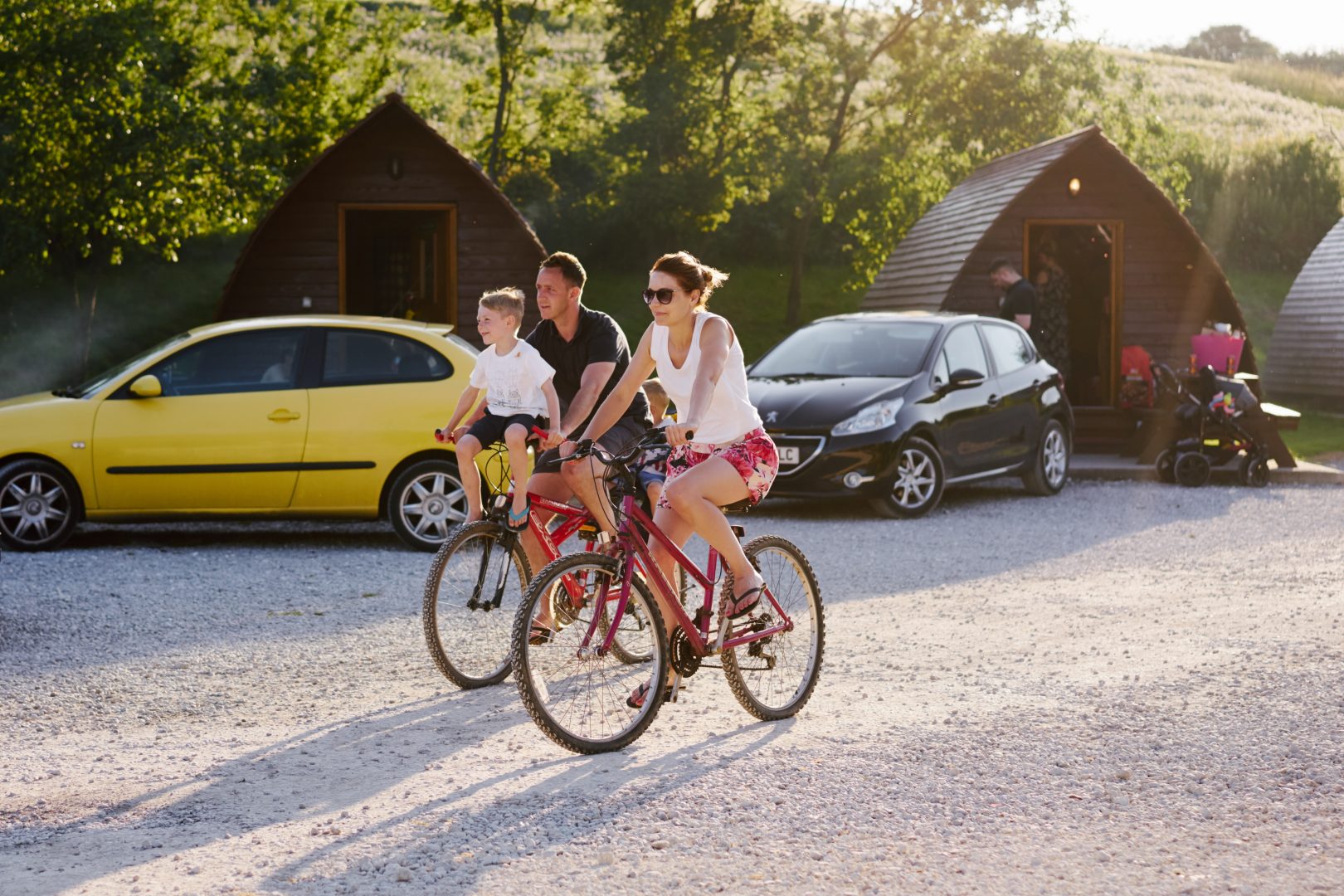 Cycle Routes
Humble Bee Farm is proud to be part of Cycle England, encouraging cyclists of all abilities to enjoy exploring the area on two wheels!
Humble Bee Farm glamping, camping and cottages welcomes cyclists to stay at our working farm in the Yorkshire Wolds. Cycling is very popular in the countryside surrounding our site and we have great bike facilities for cyclists of all abilities in our peaceful location.
Our county has spectacular scenery, a famously warm welcome and some fabulous accommodation for keen cyclists.
Humble Bee Farm has secure, undercover bike storage, a cycle washing area and a small onsite shop and reception where you can have hot drinks, cold drinks and snacks. There is a pub about one mile from the site. 
Find your perfect Cycling Holiday in Yorkshire!
Our cycle-friendly site loves to meet those of you who like to see the countryside on two wheels. And we've got some tough climbs, seaside tracks and quiet country roads to offer you.
Humble Bee Farm includes en-suite Running Water Deluxe Wigwam® Cabins, spacious Big Chief Wigwam® Cabins, Nomadic Yurts, a campsite, bell tents and luxury holiday cottages.
The site is peaceful, perfect after a day's pedalling, and includes two shower and toilet blocks along with a children's play area, sports field and gentle farm walks so you can relax those muscles.
And if you fancy a touch of luxury, Why not cycle to Humble Bee Farm and stay for a short break in our luxury cottages?
Or bring your bike with you for a stay and go out on some of our lovely local cycle routes while here.
Tour De Yorkshire 2019!
The Tour de Yorkshire will take place between 2-5 May and the 2019, and will be passing through our town of Scarborough again! To find out more information on the race, please click here!
Yorkshire 2019 UCI Road Championships
A real 'scoop' for Yorkshire, the county hosts the UCI Road Championships for the first time from 21st to 29th September 2019. The routes take in Harrogate, Ripon, parts of the Yorkshire Dales National Park, Bradford, Leeds and sections of East Yorkshire including Beverley. Find out more here.
From Our Farm
From Humble Bee, there is an unclassified, Tarmac road leading in a southerly direction towards the picturesque villages of Wold Newton, Fordon and beyond.
Or you can head on the same road in a northerly direction down the steep hill to Flixton and then to Filey.
There is a designated cycle path along much of the A64 from nearby Staxton into Scarborough, a distance of about seven miles.
Yorkshire Wolds
We are also close to the Sustrans National Cycle Route 166 which takes in 38 miles of Yorkshire views from Kirkham to Hunmanby across the Wolds, and forms part of the larger cycle route of the Yorkshire Wolds. Sustrans website has a link to the Yorkshire Wolds Cycle route. You can also look up a number of cycle routes in North Yorkshire including ones in the Humble Bee area.
The Cinder Track
If you want to bring the bike carriers and head towards Whitby, then consider The Cinder Track, which starts at Sainsbury's  in Scarborough and finishes in Whitby (21 miles) http://www.sustrans.org.uk/ncn/map/route/scarborough-to-whitby
North York Moors National Park
The North York Moors National Park is just a short drive from Humble Bee and includes numerous cycle routes, including Moors to Sea, part of the National Cycle Network, http://www.northyorkmoors.org.uk/visiting/enjoy-outdoors/cycling/moor-to-sea-cycle-network.  This route includes over 100 miles of way-marked cycling through spectacular scenery.
Dalby Forest
Dalby Forest is also close to Humble Bee and is a hot spot for cyclists of all abilities with their 'Easy' to 'Extreme' routes, indicated by an easy-to-follow colour scheme
Welcome to Yorkshire
Welcome to Yorkshire has an excellent page about cycling in our county
Park Your Bike
Scarborough includes purpose-built bike rails so you can lock up your bike and enjoy the seaside.
Cycle Hire
Nearby cycle hire companies include Bike It Filey, and others.
If you stay with us and drive to our destination with your bikes on board, we can advise you about the Cinder Track between Scarborough and Whitby (specialist tyres required) and Dalby Forest which has numerous mountain bike trails.