Answers to questions we are asked at Humble Bee Farm!
What does it mean by Low Noise Policy site?
Humble Bee Farm has built its reputation on being a peaceful location at which to enjoy your holiday. We don't allow music or loud noise from other devices; children must not play on the play-area after 9pm; and it's conversation-level noise only after 9.30pm. We ask all our guests to follow these simple steps so everyone can relax and enjoy their time at Humble Bee Farm.
What is included in each Standard Big Cheif Wigwam® Cabin?
Each of our Wigwams are 'Big Chief' Wigwams®. Each unit comes with the following as standard (included in the tariff): heating, lighting, toaster, microwave, kettle, fridge, coffee table, mattresses, storage area, power sockets, bbq (does not include charcoal), picnic table and parking space.
Wigwam extras are optional and are not included in the standard tariff. You can find a full list of extras, which need to be ordered at time of booking, by clicking this link.
Wigwam Extras give you chance to choose your special treat and tailor it to your individual requirements, and include anything from a bag of marshmallows up to luxury bedding and fairy lights.
What is a Glamping Package?
Our Glamping Wigwam® package is perfect for a special occasion. The package requires a two-night minimum stay, based on two persons sharing a Wigwam®. The 2016 tariff is £245 (two nights, two adults, one Wigwam®). Click here to find out more!
What are the arrival and departure times for Humble Bee Wigwams®?
Your Wigwam® will be ready from 2pm on your arrival day, and not before. If you are going to arrive later than 5pm, please let us know so we can tell you which Wigwam® you have been allocated. Departure time on your last day is 10am at the latest.
Yes, you can bring your dog by prior arrangement. We allow one dog per Wigwam®. A tariff applies. Please call us for further information on 01723 890437. Dogs MUST be kept on a lead at all times & must not be left unattanded at any time. We have several farm walks around the farm, which are suitable for dog walking. Please ask us for details.
Why do we charge for a dog?
The pooch tariff for our Wigwam® Cabins, which include mattresses, kitchen equipment etc covers the cost of thorough cleaning after every visit so we ensure our cabins are spotlessly clean ready for the next guest.
Our site is based on a working farm, with lots of livestock in fields and barns. We have a number of bins provided around the site for dog waste, and fabulous farm walks around perimeter of the farm and into the Yorkshire Wolds - in fact, dog owners don't need to leave the site if they don't want to, as our site is so welcoming for our four legged friends (and we have working dogs ourselves).
Our staff are also able to advise as to dog friendly pubs, dog friendly beaches, attractions etc.
We do ask visiting dogs to be on a lead at all times given we have cows, sheep and pigs in residence throughout the year.
Please note if you bring your dog, you cannot leave him or her unattended at any time.
What are your shower and toilet facilities like?
Humble Bee has two shower/toilet blocks: one behind the reception/shop, and one in the middle of the site. The one near to reception includes three showers, two toilets, a sink, washing machine and tumble dryer. The main shower block includes a kitchen (with fridge/freezer, microwave, three sinks, information point); a disabled/family shower including a baby change facility; gents toilets and showers and ladies toilets and showers. Big Chief Wigwams are very spacious but do not include a loo/shower in the Wigwam itself.
The short answer is 'yes'! Each Wigwam® is fully heated, with an electric heater included. The Wigwams® are particularly well insulated and retain the heat. That is why our Wigwams® can be booked 365 days a year!
How many guests can you fit inside a Wigwam®?
Our Big Chief Wigwams® sleep up to five guests in each.(2 adults and 3 children) Then the Deluxe Wigwams sleep up to 2 adults and 2 children. They are also spacious enough accommodate a travel cot.
Is there public transport to Humble Bee Farm?
Humble Bee Farm is in a rural location. Having your own transport is a definite advantage. Please note there is a seasonal bus route that serves Flixton village, approx. 1.5 miles away. To the best of our knowledge, this service operates during the summer season and is provided by Coastliner no. 845. However, we strongly advise you check the buses are running if you are relying on them for getting about. The nearest train stations are at Seamer (approx. 4 miles away) and Hunmanby (approx. 4 miles away). There are other stations in Scarborough (approx. 9 miles away) and Filey (approx. 5 miles away). There are also local taxi firms that will pick up and drop off at Humble Bee.
What does Humble Bee shop sell?
We have an onsite shop/reception which during peak season sells bread, milk, eggs, bacon, sausage, hot & cold drinks, sweets, souvenirs, some toiletries, tea, coffee, jam, butter, cereals, biscuits, toys, games and other items.
Where are your nearest supermarkets?
The nearest mini-supermarket is Proudfoots in Seamer, a village just off the A64 between Staxton and Scarborough. Proudfoots opening times are 6.30am to 9pm Monday to Saturday, 8am to 9pm Sunday. Click here for their website.
Within five miles there is a Morrisons (just off the A64); there is also a small range of supermarkets, including Tesco, in Filey (also about five miles away). In Scarborough there is Sainsburys and Tesco. Opening times vary.
How far is it to the nearest beach?
Humble Bee Farm is perfectly located for some of the finest beaches in the country. Hunmanby Gap is a hidden gem and is about four miles away. Filey Bay is delightful and is about five miles away. Scarborough has two fabulous bays, North and South (about 10 miles away). Bridlington is also a great seaside destination is about 15 miles away. Please note: If you have dogs, there are dog restrictions on most Yorkshire Coast beaches from May to September inclusive. And don't forget to bear in mind there are two tides a day!
What is there to do on Humble Bee Farm?
Our farm is a working arable/stock farm and is very peaceful, surrounding by the chalk hills of the Yorkshire Wolds. There is a children's play area, lovely walks, and of course some farm animals, including ducks, hens, Buttercup the goat, cows, sheep, cats and our dogs, Mr Bumble and Molly. We organise Nature Events on our farm, usually from February to October. Please ask staff about attractions in the area, of which there are hundreds to choose from.
Where is the nearest food-serving pub?
The Foxhound is on Main Street, Flixton and is the nearest pub, about one mile from the Humble Bee Farm. As we are in such a tranquil location, the road between the farm and the pub is unlit and therefore we would suggest you nominate a driver. On arrival you will be given a helpful information sheet, on which there are brief details about other nearby pubs and restaurants.
Do we accept Stag/Hen Parties at Humble Bee Farm?
Sorry, we do not accept Stag or Hen parties. However, you can join us for a peaceful, restful break once the wedding is over! We are a low noise policy site.
Our location is very quiet surrounded by fields and pastures. As a low noise policy site, we have families and couples who book with us for some quality time at our tranquil working farm. Also as per our terms and conditions we don't allow any music to be played by our guests. Maybe you could join us at another time so you too can enjoy a holiday at Humble Bee, the place to be!
Do we allow vans on site at Humble Bee Farm?
Please note we do not allow commercial vehicles on site, unless prior arrangements have been made. A picture of the vehicle would be required before a decision is made. Please note if this is not done it could result in you not being able to park at Humble Bee Farm.
Can you dispose of gas canisters/cylinders at Humble Bee Farm!
Unfortuantely not, we do not dispose of these at Humble Bee you will need to take them home with you.
Can our accomodations be allocated together?
If you are booking 2 or more units you will be informed at the time of booking if these will be next to each other or not. If we are not made aware that you are booking together then we cannot guarantee that you will be allocated accommdoation next to each other. Please note if you are booking more than 2 accommodation types you will need to read the group booking terms and conditions and confirm on an email to us that you are ok with these.
Do travel cots fit in the wigwams?
Travel cots do fit in the deluxe wigwams and big chief wigwams.
What is the bed set ups in the Wigwams?
Big Chief & Original Big Chief Wigwams can sleep up to 2 adults and 3 children and come with 5 individual single mattresses. These can be set up in 2 ways. The first way would be set up as 3 individual single beds using 3 mattresses, or  alternatively they can be set up all together as a big super king at the back of the wigwam, with a spare single one towards the front of the wigwam. Please note we recommend bringing flat sheets for the mattresses.

Deluxe Wigwams have 2 double beds, and sleep up to 2 adults and 2 children. We recommend bringing flat sheets for these.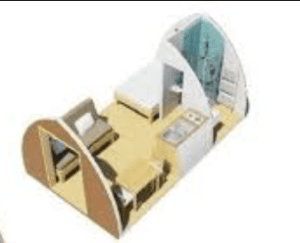 We do have wifi available on site for all guests. WIFI is £3 per day per device. The wifi is for browsing only, not for streaming videos etc. Please note, we unfortunately do not have any mobile signal on site.