Our CoronaVirus booking guarantee & FAQ's.
I have a booking from 4th July onwards. What details do I need to know?

We are pleased to announce Humble Bee Farm is open, following government guidelines and cant wait to welcome everyone once again! Any guests with bookings for the summer will be contact prior to arrival with a pre-arrival pack via email. Please note check in is 3pm for glamping/camping and 4pm for cottages, thank you
You can view our Welcome Folders Below, for useful information prior to your stay! These are PDF documents that you can download to your phone.
Will extras still be provided?
Following strict Central Government and Public Health England advice and guidelines, we are no longer providing duvets for our guests, or any pre booked packages/extras. Please note if you have already ordered these, you can request a refund on 01723 890437. So we are asking guests to bring their own duvets for the foreseeable future. If your booking comes with bedding as standard (Yurts, deluxe wigwams, lodges, cottages) We WILL provide the following: pillows and pillow cases; sheets and duvet covers unless advised otherwise by yourselves. Thank you for understanding. You can still order fire pits, charcoal, meat packages and celebration packages. Merry Dale Bell Tents will still be providing all the extras stated on the website as usual.
Can I still come on holiday in a group?
Please observe the Rule of 6 on site at all times whether travelling with a group or socialising to ensure the safety of everyone. Find out more here.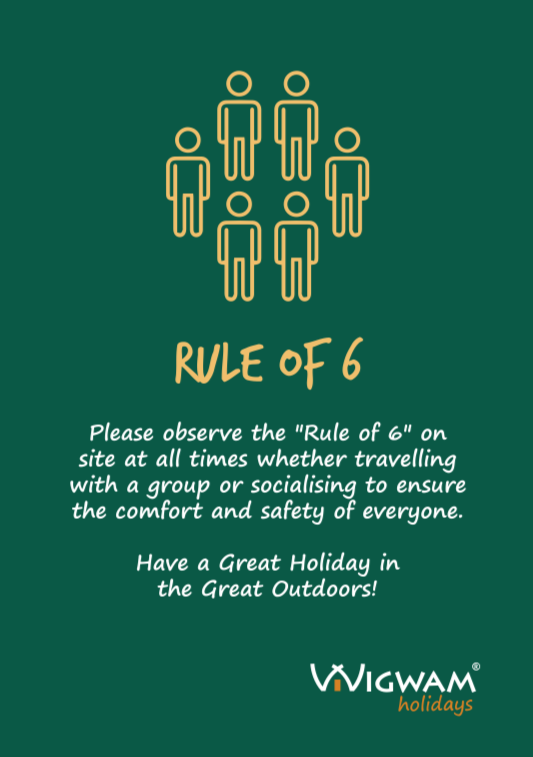 Are there any events running on site?
Yes, our summer nature events are running currently, and we have some autumn events scheduled too! Please ring us on 01723 890437 to book. Again, our events are subject to any changes in the law in relation to Covid-19.
Is the onsite reception/shop open? Do I have to wear a mask?
Yes, our shop/reception is open at usual 9-5pm daily. Please do not hesitate to come and see us! We are here and happy to help! Masks are required for all guests in the onsite reception/shop. Thank you
How Do I order fire pits, pizzas etc?
To order fire pits or stove packs, you can either preorder on 01723 890437 or order in reception on site. We are open 9-5pm daily. Pizzas can be ordered on 01723 890437, or in the office up to 12noon on the pizza day. We offer pizzas on Mondays, Wednesdays and Saturdays in August. Please ask us about other pizza nights taking place in September.
I had booked a holiday before 4th July 2020, what should I do?
We have been following the coronavirus updates carefully over the past few weeks, and as a small family run business that depends on your valued custom we hope for all bookings between 24th March and 3rd July to be postponed or rescheduled for up to 2 years.
Please contact our friendly team for further assistance. Our contact details are: Email (preferred) – info@humblebeefarm.co.uk Phone – 01723 890437. Open 9-5pm Monday – Friday.
For any bookings after July 4th, we will be closely monitoring the situation, and will update guests accordingly closer to the time.
Customers have been advised to contact their travel insurer should they wish to cancel and not postpone. Please help to save rural tourism by postponing your booking for another occasion, thank you for understanding, patience and support.
Humble Bee Farm & the Yorkshire Coast are great places to visit in the Autumn, and we would love for you to consider still visiting us in 2020. We have plenty of availability and would love to see you soon!
What happens if I fall ill on site?
If you or a member of your family or families shows symptoms of Covid-19 (new persistent cough; high temperature; loss of sense of taste and smell; sore throat) then report this to a member of staff immediately.
The management reserves the right to ask the family or families to leave with immediate effect.
We have guests' contact details securely stored on our booking system, however additional details maybe be required as we will are required inform the Public Health Authority if a member of staff or one of our guests reports symptoms.
From what we understand, we will then be advised as to the precautions and actions we need to take in these circumstances.
If you are traveling alone, then the team at Humble Bee Farm will do their best to ensure you are able to return safely or are advised as to the nearest hospital.
Any monies outstanding/owed for extra accommodation will be payable.
Our coronavirus booking guarantee for new bookings!
For glamping and camping a low deposit of just 30% to secure your booking.
For cottages a low deposit of £100 to secure your booking.
Glamping booking balances will not be due until 2 weeks before your holiday, in case of late changes to Coronavirus guidance.
Cottage booking balances will not be due until 4 weeks prior to your holiday incase of late changes to Coronavirus guidance.
Complete flexibility to move bookings for up to 24 months in the event of Coronavirus restrictions. 48 hours notice applies for glamping and 3 weeks notice for cottages.
Due to low deposit and late balance payment, no refunds are offered, however you can reschedule/postpone your booking. We are set to look at this again in the autumn.
Our health and safety guarantee.
In a time like no other we know that your health is a top priority. This is why we have introduced the Health & Safety Guarantee to give you the peace of mind you deserve while on holiday with friends and family.
Contactless arrival and departure
6 metres between each cabin, at least (door to door)
Cabin deep clean between every visit

Dartex waterproof mattress covers are disinfected between visits
Indoor and outdoor area cleaned and disinfected

Physical distancing reminders around site
Hand gel points around site
Communal facilities will be subject to social distancing measures.
Please note the play area is currently CLOSED until further notice. We have a football field which can be used by guests (children must be accompanied).
Is it safe to go glamping while Coronavirus is still in the UK?
There's no doubt that camping and glamping are fantastic for finding space and being outdoors, making it an attractive way to go on holiday whilst practicing social distancing. The Humble Bee team are working hard to ensure that, where any facilities are shared, everything possible is done to keep guests safe. Ultimately, all guests should follow the government's guidance in deciding whether it is safe for them and determining how best to practice social distancing.
What happens if I've booked a summer holiday but, when the time comes, I'm ill or need to self isolate? (due to coronavirus)
We understand that you may still find you are unable to take your holiday due to the coronavirus – for example, if you fall ill or if a member of your household falls ill and you have to self isolate. For this reason, we launched our coronavirus booking guarantee which ensures you only pay a low deposit when you make a reservation and the remaining balance isn't due until closer to your holiday start date. If you find that you're unable to take your holiday due to coronavirus, you'll be able to move your holiday by up to 24 months to provide the maximum flexibility.

This CoronaVirus blog was last updated on 13th Sept 2020. The coronavirus booking guarantee was created on 21st May 2020 and the coronavirus booking guarantee policy will be reassessed in the autumn, subject to Government advice. Thank you.

.